Attorney John Parese was recently featured in
Repairer Driven News
, offering auto body shops some perspective on filing short-pay lawsuits in small-claims court.
The discussion in "Litigating and Winning Short Pay Claims" applies to shops using assignment of benefits agreements to obtain money an insurer still owes their customer for the repair.
The below is quoted from ReparierDrivenNews.com
---
A Connecticut attorney last fall said it can be necessary during short-pay litigation to rebut the idea that the insurer estimate carries the same weight as the shop's invoice.
"Those two things are very different documents," Buckley Wynne & Parese partner John Parese told the virtual "Litigating and Winning Short Pay Claims" audience. (Parese's class and more than a dozen other virtual SCRS Repairer Driven Education sessions released November 2020 remain replayable through Aug. 31, 2021.)
Parese said he's even had judges ask why a body shop doesn't work off of the insurer's estimate and declare "'the shop needs to get permission from the insurance company'" to deviate from it. This means a plaintiff must explain "why that's backwards," Parese said.
"Inevitably," parties such as consumers, laymen and judges don't appreciate the distinction between a insurer's estimate and a collision repairer's, Parese said during the virtual course. The class mostly focused on short-pay small-claims court lawsuits involving an auto body shop which carried an assignment of benefits from a first- or third-party claimant.
(Note: Parese's comments and this article are for informational purposes and not intended as legal advice. Consult with qualified counsel licensed in your jurisdiction before taking any action.)
Parese said he created a letter for the Auto Body Association of Connecticut explaining the difference between an insurer and shop estimate, and it can be submitted to the court to function "almost like a legal brief." (He said audience members could contact him for a copy.)
"Not all courts will let me put this in," Parese said. However, most permit it to be introduced, he said.
The letter responds to the question: "What is the role and legal significance of an insurance estimate in the context of an auto body repair; and can an insurance estimate be utilized for dictating how a vehicle should be repaired or as evidence of the true cost of repair?"
"That's a central issue that we gotta confront," Parese said.
The document states:
It goes without saying that insurance companies are not trained, equipped or licensed to fix vehicles. This is, in part, why insurers always elect to pay property loss claims in money.
Since insurers are obligated to pay for losses in money, they utilize insurance estimates to help asses their indemnity exposure. An "estimate" is an approximate judgment or calculation; a statement of the insurer's opinion as to the approximate charge for work to be done. Insurance estimates by their very nature (i.e. an approximation before repairs commence) and authorship (i.e. written by an insurance representative not licensed to perform repairs) cannot be utilized as evidence of the actual cost of repair or as a blueprint for repair. …
What is more, since most insurance estimates are done without the benefit of vehicle disassembly, they often require significant correction due to subsequently discovered damages.
Reinforcing the last point here, we should also point out that initial estimates are incomplete the majority of the time. CCC data found 60.9 percent of repairable vehicle claims in 2020 had supplements, typically representing 18.7 percent of the repair cost. The average repair bill was $3,421, which means the initial estimate on average missed $640 worth of damage.
Parese also points out that under Connecticut law, only licensed repairers regulated by the Department of Motor Vehicles can fix vehicles, and insurers have "no legal authority, experience, training or oversight in the business of auto repair. …
"What is more, as the licensed repairer is the one ultimately liable for the soundness of a repair, it would be inapposite and unethical for that trained auto repair expert to surrender his or her judgment for that of someone in the insurance business."
Should the court read the document, "It will advance your cause dramatically," Parese said.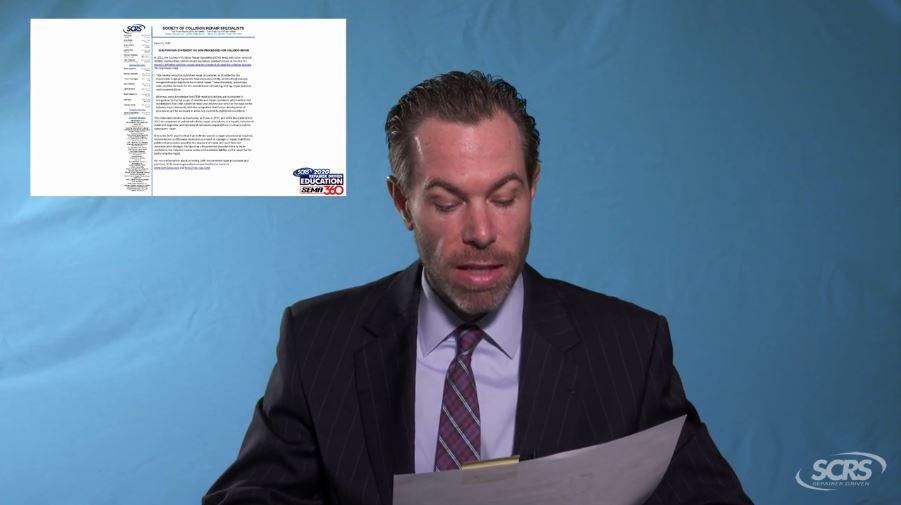 Parese said he also liked to introduce the Society of Collision Repair Specialists' declaration that OEM repair procedures are the industry standard of care.
The original landmark SCRS-ASA-AASP-Assured Performance 2011 position is located here; Parese's presentation appeared to feature the 2017 SCRS position reiterating the stance and confirming it includes diagnostic and mechanical procedures.
"(W)e hereby recognize published repair procedures, as provided by the Automobile Original Equipment Manufacturers (OEM), as the official industry recognized 'Repair Standards' for collision repair," the trade groups wrote in 2011. "These standards, where they exist, shall be the basis for the establishment of training, testing, repair practices, and documentations.
"Whereas, we acknowledge that OEM repair procedures are incomplete in comparison to the full scope of vehicles and repair operations which exist in the marketplace; the OEM published repair procedures shall serve as the baseline for industry repair standards, with the recognition that further development of procedures will be necessary in areas not covered by published procedures."
Parese called it a "great piece of evidence."
He asked the audience: If a body shop can demonstrate it followed automaker procedures and the OEM is the standard, then how could an insurer not licensed to perform repairs override the industry standard?
"They can't," Parese said. "Case over."
Recent Case Results
$9,000,000

Serious Injury Settlement

$7,500,000

Racketeering and Fraud Judgment

$6,400,000

Serious Injury Verdict

$4,000,000

Wrongful Death Settlement

$1,100,000

Motor Vehicle Settlement

$800,000

Motor Vehicle Settlement

$2,100,000

Premise Liability Settlement

$1,800,000

Liquor Liability Judgment

$1,500,000

Police Liability Settlement

$498,000

Motor Vehicle Settlement

$475,000

Motor Vehicle Arbitration Award

$350,000

Motor Vehicle Settlement

$950,000

Legal Malpractice Settlement

$850,000

Medical Malpractice Settlement

$250,000

Motor Vehicle Settlement

$210,000

Motor Vehicle Verdict

$650,000

Wrongful Death Settlement

$600,000

Medical Malpractice Verdict

$600,000

Sexual Abuse Settlement

$500,000

Serious Injury Settlement

$500,000

Product Liability Settlement

$385,000

Product Liability Settlement

$300,000

Serious Injury Verdict

$275,000

Serious Injury Verdict

$175,000

Premise Liability Verdict

$1,000,000

Motor Vehicle Settlement
Client Reviews of Our Personal Injury Attorneys
Friendly, professional and VERY responsive!

Attorney John Buckley was highly recommended to me by quite a few people and upon my first meeting to discuss my case, I knew immediately that I was in good hands. He took his time to explain everything to me in great detail and stayed in communication throughout my entire case. His staff was also extremely friendly, professional and VERY responsive! I actually never had to reach out about my case because they over-communicated with me from beginning to end. My accident was very unfortunate, but I'm extremely grateful I was working with Attorney Buckley through it all! I highly recommend this law firm!!!

- Jamie B.

Respectful, extremely knowledgeable, & understanding

Recently engaged BWP concerning a motor vehicle accident. From the initial consult, and continuing throughout the entire process, John Parese and the entire staff were respectful, extremely knowledgeable, understanding of my goals and supportive to work towards achieving the best possible outcome. It was a very seamless, friendly relationship and a firm that I would highly recommend to anyone.

- Robert T.

Couldn't have been happier with the services I received!

I contacted BWP in June 2019, after I was hit by a drunk driver. John Wynne was my attorney. I couldn't have been happier with the services I received. Everyone I dealt with was very professional and made sure I had all the help I needed. I highly recommend this law firm.

- Valerie

Quick and consistent

John Buckley was quick and consistent in relaying information to me regarding litigation, and he and his staff were always very supportive of any requests I made. John's experience and strategic expertise made the difference in dealing with the insurance company, and we achieved the best possible outcome thanks to his vigilance. Cannot recommend BWP highly enough!

- Richard

5 star all the way!

Upon my first meeting to discuss my case, I knew that I found the right place to handle it!! Attorney John Parese was fantastic, definitely 5 star all the way! Everything regarding the process and the timing was very well explained. The communication was excellent, and I was always kept up to date throughout beginning to end! Each person that I had contact with in the office was professional and very responsive. I never had to worry about anything which was a great relief to me. While my case may have to been as complicated as others are, I was always made to feel important. I can't recommend Buckley Wynne & Parese enough should you find yourself being injured from an accident. Do yourself a favor and give them a call!

- JB Keys

Knowledge, trust, & accessibility

John Buckley exhibits knowledge, trust, accessibility, instills faith and I felt he always had my best interest at heart. Thank you John Buckley and team for easing my mind during a difficult time. I highly recommend.

- Diane M.

John Parese is the best!

Attorney Parese just finished a motor vehicle case for me. At the time of my accident, I was a 32 year vet of a police department and the accident forced me into retirement. I am just a working person who depends on attorneys like John to help people in need and they can trust. John Parese is the best.

- John

It is clear that helping people is important to you

This is a very heartfelt thank you for all you did to help resolve my case. The accident and what followed was confusing and a bit overwhelming. However, the best thing to come of it was the recommendation to contact you. Your expertise as well as your down-to-earth and friendly manner immediately put me at ease. I greatly appreciated your willingness to go above and beyond (meeting and bringing paperwork to my house on a weekend after my surgery) and all the time you took to explain all aspects of the case. Your generosity in giving me some of your fee was also very much appreciated. It is clear that helping people is important to you, and I am grateful to have been of those you helped. Hopefully, I will never need to use your services again, but I will be sure to recommend you to others who do.

- Carrie

Parese listened carefully

John Parese listened carefully, we discussed options, he gave me his expert advice on where he thought we would end up and he went to work to attain the damages I was due. I received status calls and notifications along the way and received the settlement we were expecting. I never doubted John's integrity and trusted being in his hands. I hope I don't get rear ended again but if I do, I'll call John right away.

- Joseph Schipani

From the moment I met Attorney Buckley, he put me at ease

From the moment I met Attorney Buckley, he put me at ease. At first, I was hesitant to contact an attorney after the car crash, yet after deciding to work with Buckley, Wynne & Parese, I was pleased that I did. During the time it took to settle my case, Attorney Buckley was always available for consultations, he responded to queries within hours, and walked me through the litigation process step by step. He has a great team of paralegals and assistants who were courteous and professional. I am grateful for his help.

- Nicole C.