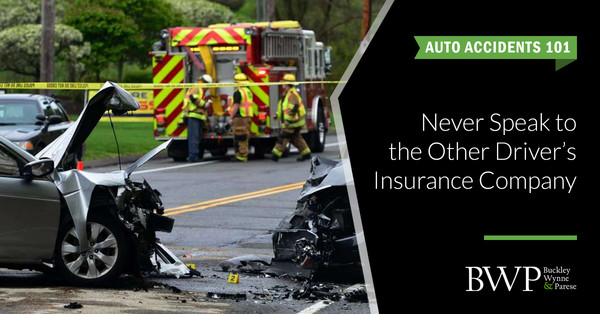 If you have been injured in an auto accident as a result of another person's negligence and/or wrongdoing, you often deal with your insurance company and the insurance company of the at-fault party. Once an accident is reported, the insurance company assigns a representative to investigate the claim. Insurance company representatives can have several different titles -Claims Adjuster/Claims Specialist/ Claims Analyst/etc. – yet they all have the same goal: to protect the financial interests of their insurance company by minimizing their payout regardless of the victim's interests.
At the end of the day, an insurance adjuster's performance is based on how little and how quickly he or she can settle a claim. Insurance companies have no incentive to help you as the victim. We encourage you to contact Buckley Wynne & Parese before speaking to an insurance representative in order to receive the just treatment and the compensation you deserve.
Commonly Employed Tricks and Tactics of Insurance Companies
Early and Friendly Contact: The goal of an insurance representative is to get in touch with you before you realize the extent of your injuries and dissuade you from contacting an attorney. Any conversation you have with the representative may seem like open communication, but they are really just trying to build a defense. He or she will attempt to extract information and get you to say things such as "I'm sorry" or "I'm not hurt."
Recorded or Written Statements: Insurance representatives will encourage recorded or written statements. You are not required to provide either of these to the other party's insurance company. Insurance representatives take countless statements a day and know exactly what questions to ask you in order to put their insured in the best light.
Liability: Regardless of which driver the responding police officer finds at-fault for the accident, an insurance company will always question whether their insured was truly liable. They'll do anything to minimize, delay or deny your claim.
Injuries: Insurance representatives will oftentimes dispute the severity of your injuries and whether your injuries are related to any preexisting conditions or prior injuries. Do not sign an authorization allowing the insurance company to obtain your medical records.
Sign on the Dotted Line: Insurance companies are looking to close out claims as soon as possible so that victims give up their right to sue. They'll even provide arbitrary deadlines to motivate you to settle. Be sure to speak with a lawyer at BWP before signing anything.
Victims are not always aware of the value of his or her claim. Insurance representatives will attempt to settle your claim without considering other factors such as lost wages, out of pocket expenses, pain and suffering, and permanent injury. Buckley Wynne & Parese are experienced lawyers who will walk you through the process and handle any communication with the insurance companies. We will fight for the compensation you deserve. Call us today.