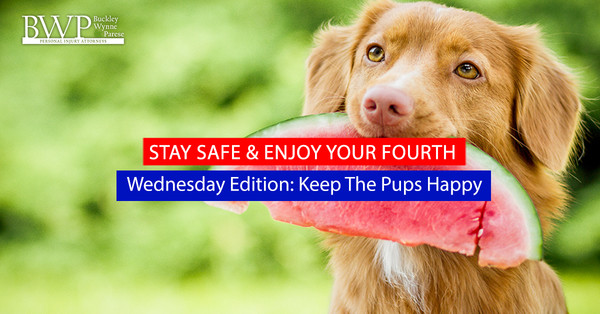 The attorneys at Buckley Wynne & Parese have represented victims of dog bites for over 100 years. We know that the losses from injuries and damages sustained in a dog bite or attack are often traumatizing and catastrophic, especially to children. Certain activities on the July 4th, fireworks in particular, can result in negative, unpredictable reactions from dogs.
PetMD provides the following Top Ten Fourth of July Pet Safety Tips
Keep Your Pet Indoors at All Times!
Don't Put Insect Repellant on Your Pet that isn't Specifically for Pet Use
Alcoholic Drinks Poison Pets
Going to a Fireworks Display? Leave Your Pet at Home
Have Your Pet Properly Identified
Keep Your Pet Away from Glow Jewelry
NEVER Use Fireworks Around Pets
Don't Give Your Pet "Table Food"
Lighter Fluids and Matches are Harmful to Pets
Citronella Insect Control Products Harm Pets, Too
Source: Pet MD
The Kennel Club provides the following tips for dealing with your dog's anxiety around fireworks.
Before the fireworks begin
Top up your dog's water bowl. Anxious dogs pant more and get thirsty.

Feed your dog a while before you expect any disturbances. Once the fireworks start your dog may be too anxious to eat.

Walk your dog before dusk. It may be some time before it's safe to venture outside again for your dog to relieve themselves.

Make sure you shut all the doors and windows in your home and don't forget to draw the curtains. This will block out any scary flashes of light and reduce the noise level of fireworks.

Make a safe den for your dog to retreat to if they feel scared. Make sure to fill it with their favorite blankets, toys, or an item of unwashed clothing, as these may help them feel safe.
During the fireworks
Distract your dog from the noise by having the TV or the radio switched on.

Try to act and behave as normal, as your dog will pick up on any odd behavior.

Your dog might choose to hide under the bed or behind furniture; if they come to you for comfort, make sure that you give it to them. Ignoring your dog would only make things worse as they wouldn't understand your withdrawal from them.

Always reward calm behavior with dog treats or playing.

Never try to force your dog to face their fears – they'll just become more frightened.

Never try and tempt them out if they do retreat, as this may cause more stress.
Things owners should never do!
Never take your dog to a firework display, even if your dog does not bark or whimper, don't assume he or she is happy. Excessive yawning and panting can indicate that your dog is stressed.

Never tie your dog up outside while fireworks are being let off

.
Source: The Kennel Club