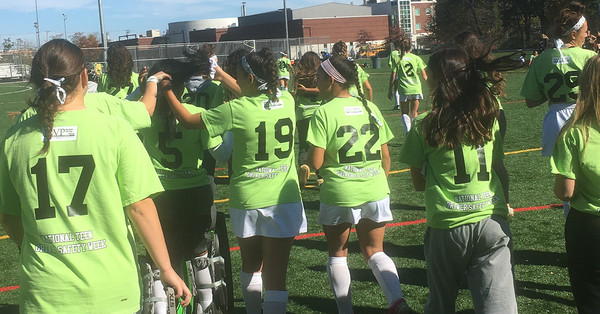 The Hamden High School Field Hockey Team celebrated and raised awareness all week for National Teen Driver Safety Week.
BWP sponsored the purchase of t-shirts to raise awareness, which were worn by the student athletes during their game on Saturday, October 26, 2019. During the week leading up to the game, they wore their t-shirts to school.
The team was divided into 7 groups (1 for each rule plus 'No Drugs') and each group was given a pledge that corresponds with that rule. They went around school having classmates sign the pledges and once they've done that, they signed the back of the player's t-shirt.
The 27 girls got over 2,000 signatures to pledge to follow the "7 Rules of the Road"
No Cell Phones
No Speeding
No Drowsy Driving
No Passengers
No Alcohol
No Drugs
Always Buckle Up
Great job, team, on spreading the word!