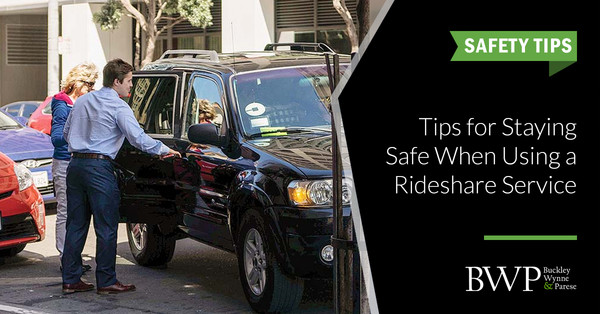 Rideshare services across the United States and Connecticut have become increasingly popular. Arguably, rideshare services allow for more convenient, safe, and reliable transportation. Since their increase in popularity, studies have shown a decline in DUI arrests and traffic fatalities in recent years.
Accidents involving rideshare services are inevitable. Filing a claim involving services such as Uber and Lyft can be complicated by the legal status of the driver. Our attorneys at Buckley Wynne & Parese are fully dedicated to you and will answer any questions you may have. We offer all prospective clients a free initial consultation. We encourage you to call today, at no charge, to discuss your options.
BWP's Tips for Staying Safe When Using a Rideshare Service
Use an established, well-known service
Remain inside until your driver has arrived
Be sure to confirm that the name of your driver and that his/her vehicle match the information on your App
Ask the driver for the name of the person he/she is picking up
Choose a rideshare driver with higher ratings
Sit in the backseat and be sure to buckle up
Follow along on your App to ensure the driver isn't traveling an odd route
If possible, do not ride alone
Give feedback for future riders
Keep your personal information confidential
Share your trip details and plans with a friend
Trust your gut and intuition
Contact Buckley Wynne & Parese Today
If you or a loved one are using rideshare services this holiday we encourage you to stay safe in doing so. If you experienced an accident involving a rideshare service in, call us today!