Dog Bites Attorney in , CT
"Each day about 1,000 U.S. citizens require emergency care treatment for serious dog bite injuries. Annually, about 9,500 citizens are hospitalized due to dog bite injuries."
Source: DogsBite.org
We encourage you to call Buckley Wynne & Parese today if you or a loved one has been injured by a dog bite or attack in . We offer all prospective clients a free initial consultation and contacting a lawyer is the first step toward recovering everything you are entitled to under the law. Here at BWP, our attorneys are experienced, determined and aggressive. If you think you may have a case, you are invited to call us at no charge to discuss your options
What to Do if Injured or Bit by a Dog in , CT - Call a CT Dog Bites Lawyer, Buckley Wynne & Parese
In addition to contacting Buckley Wynne & Parese, we recommend you take the following steps after being bit or attacked by a dog. We are happy to answer any questions and we endeavor to use all of our attention and resources towards helping you and your family.
Obtain the Dog Owner's Name and Contact Information
Request Proof of Rabies Vaccination from the Owner
Be Sure to Treat your Wound. If the Wound is Serious, Consult Your Doctor Immediately or Go to the Nearest Emergency Department
Report the Bite to the Local Animal Control Agency or Police Department
Children and Dogs
More than half of dog bite victims are children under the age of 12 and nearly 70% of fatal dog bites involve children. Furthermore, almost half of all children are bitten by a dog by the age of 18. Behind bicycle and baseball/softball injuries, dog bite injuries are the third most leading cause of emergency hospital admission of children. Children are more likely to run, yell, grab, and make quick movements which ultimately increases their risk for dog bite injuries.
Source: American Veterinary Medical Association
Center for Disease Control's Facts and Findings on Dog Bites
Approximately 4.7 million Dog Bites Occur in the United States Each Year
Half of those Injured by Dog Bites Each Year Are Children
Roughly 800,000 of Dog Bites Require Medical Care
Nearly 1 in 5 Dog Bites Become Infected
Dog Bite Injuries Occur Most Commonly to the Arm/Hand (45.3%), Leg/Foot (25.8%), and Head/Neck (22.8%)
Connecticut Dog and Leash Laws
The State of Connecticut is considered a strict liability state which holds a dog owner or "keeper" to be liable and responsible if his/her dog causes injury or harm to an individual. Claims involving dog bites and attacks can be complicated. The attorneys at Buckley Wynne & Parese will help prove the liable party's ownership, that you weren't trespassing and that you were not provoking the dog.
Under Connecticut law, a dog owner is not mandated to keep a dog on a leash at all times, however, it is unlawful to allow the dog to run uncontrolled while at large. Be sure to check your town's ordinances for its respective leash laws.
Be a Responsible Dog Owner
Here at Buckley Wynne & Parese, we understand the importance of having dogs and other pets in our lives and homes. Here are some of the BWP's teams dogs -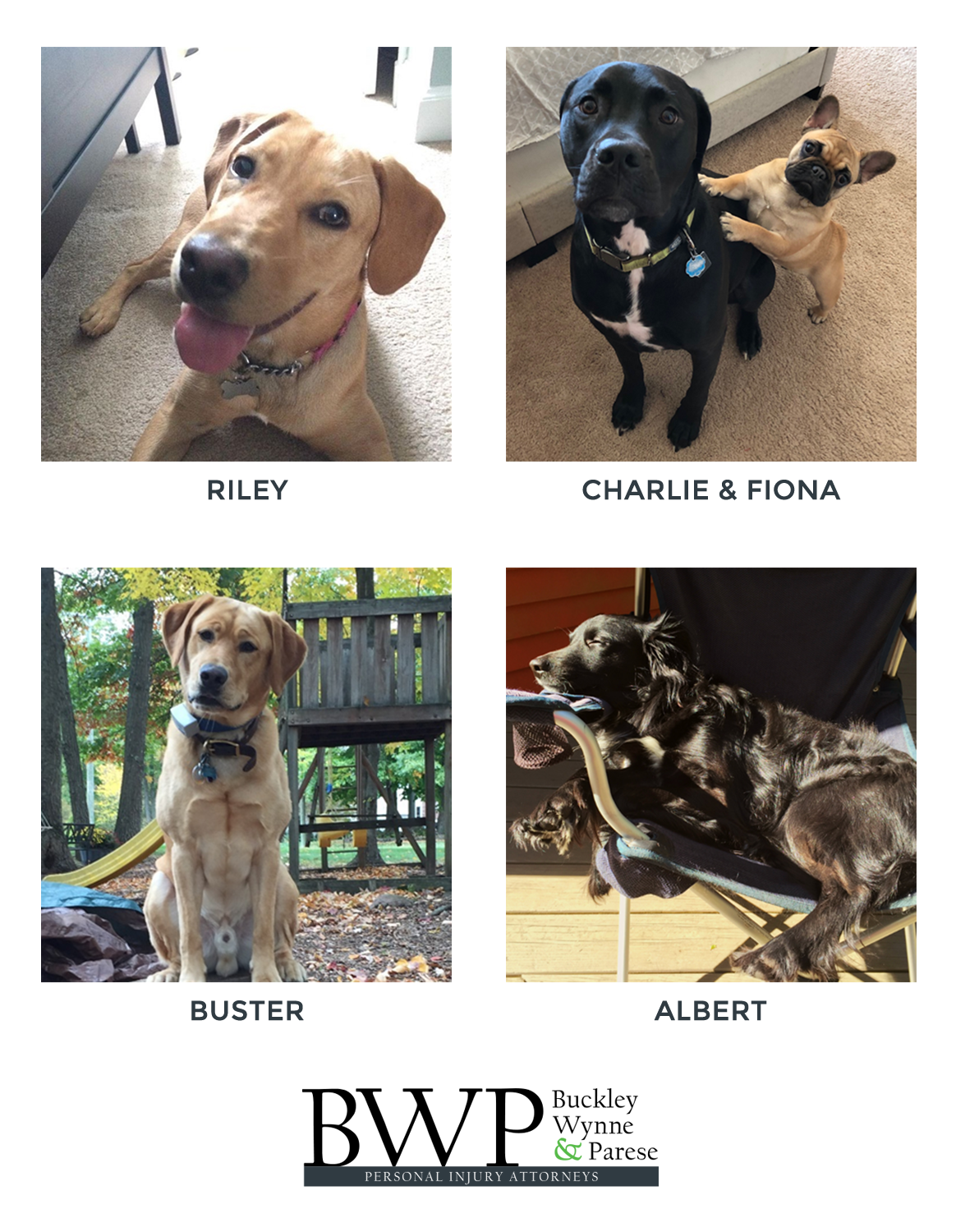 In addition to meeting your dog's primary needs, and in order to ensure the safety of others, we encourage you to do the following:
Socialize your Dog- know how it reacts with other animals and people
Be Cautious when Exposing your Dog to New Situations
Be Sure to License your Dog
Ensure your Dog is Vaccinated
Train your Dog
Keep your Dog Secured
Provide Proper Supervision
How Buckley Wynne & Parese Can Help You and Your Family
The losses from injuries and damages sustained in a dog bite in are often traumatizing and catastrophic, especially to children. It is imperative that you contact us as soon as possible. Below are some areas in which we can help you and your family recover.
Medical and Financial Costs and Burdens
Lost Wages and Impaired Earnings
Non-Economic Damages which includes pain and anguish and mental suffering
Out of Pocket or Miscellaneous Expenses
Contact Buckley Wynne & Parese, your CT Dog Bites Attorney
If you or a loved one has been injured by a dog bite or attack in , call us today. For over 140 years, the attorneys at Buckley Wynne & Parese have been fully dedicated to assisting families whom were injured by a dog bite or attack. as a result of someone else's wrongdoing and negligence.
Frequently Asked Questions
Frequently Asked Questions
Do I have to pay legal fees out of my pocket?
No. Your legal fees are paid on a contingency fee basis unless otherwise specified. That means that we are not paid unless we recover compensation for you.
Who Pays For My Medical Treatment?
The law in Connecticut requires that you initially pay for your medical treatment. It is a common misconception that the at-fault driver will pay for your medical treatment. This often leads to frustration. We will do everything we can to help you manage your options, but please note: we are not allowed by law to pay your medical bills. If you had medical treatment (e.g. ambulance, hospital evaluation) and have no insurance or ability to pay for that treatment, the provider may send the bill to collection. While we may send letters to medical providers offering to protect their bills, many providers will not agree to such an arrangement (see discussion below). Unfortunately, we cannot stop a collection action or pay your bills. If you are receiving collection letters or outstanding bills, please contact us to discuss your options in more detail.
There are essentially five ways for your medical bills to be paid and there often is priority under the law. Therefore, be sure we are aware of any and all of the following:
Workers Compensation
If you were on the job at the time of the incident.
Medical payments ("Med Pay") coverage on your auto policy
If you have Med Pay coverage on your auto policy, or you were a passenger in a car that had Med Pay coverage, you should use this coverage to pay your bills, even if you have health insurance. Med Pay will pay up to its limits, after which point your bills should be paid through one of the three remaining sources.
Health Insurance & Medicare/Medicaid
Generally, your health insurance will not cover your accident related bills unless and until you can prove that you do not have Med Pay. We will help you secure a "No Med Pay Letter" when appropriate.
Letter of Protection
Under certain circumstances, when someone else caused an accident, and you do not have Med Pay or health insurance, some doctors will accept a Letter of Protection from our office. This obligates our office to reimburse your doctor from the proceeds of your lawsuit settlement or judgment. Because payment is not guaranteed and will be delayed until the resolution of the case, many doctors will not agree to do this.
Out-of-Pocket
The final way to pay your medical bills is out-of-pocket. Please be sure to keep track of everything you have paid. All reasonable and necessary out-of-pocket losses should be recorded and provided to us.
If a dog bites a person, is the owner liable for doctor's bills?
Yes. An owner of a dog may be held liable for the injuries that that animal causes to others. Once the plaintiff has established that the owner is liable for his injuries, the plaintiff must also establish the amount of his or her damages. The plaintiff should introduce evidence, such as doctor and hospital bills, of how much it has cost to treat the injury. In addition, the plaintiff may be able to recover lost wages if the injury kept the plaintiff out of work. The plaintiff is entitled to compensation for any permanent disability or scarring caused by the injury, as well as compensation for pain and suffering.
Can a person recover damages for injuries sustained on someone else's property?
An owner of property has a duty to protect members of the public from injury that may occur upon the property. The injured person may be able to recover money for those injuries if he or she can prove that the property owner failed to meet that duty. The hurdle plaintiffs face is that the nature and extent of the property owner's duty will vary depending upon the facts of the situation and the jurisdiction in question.
The status of the injured visitor is important. There are three separate categories: invitee, licensee, and trespasser. An invitee is someone who has been invited onto the land because that person will confer some advantage to the property owner, such as a store patron. An owner of property is required to exercise reasonable care for the safety of the invitee. A licensee is someone who enters upon the land for his or her own purpose, and is present at the consent, but not the invitation, of the owner. For example, a door-to-door salesman who enters the property and stays to chat with the owner about the product that he is selling is a licensee. The owner's duty to a licensee is only to warn of hidden dangers. For example, if the owner knew the front step was rotten and did not warn the salesman, the salesman may be able to recover if he thereafter falls through the step and injures himself. Finally, a trespasser is an individual who enters onto the property without the knowledge or consent of the owner and who remains there without any right or permission. Trespassers have difficulty suing property owners because property owners' duty towards trespassers is not to place traps and hazards on their property. In some cases, the owner must also warn trespassers of the hazards if they are unlikely to be discovered by the trespasser and could cause serious injury or death.