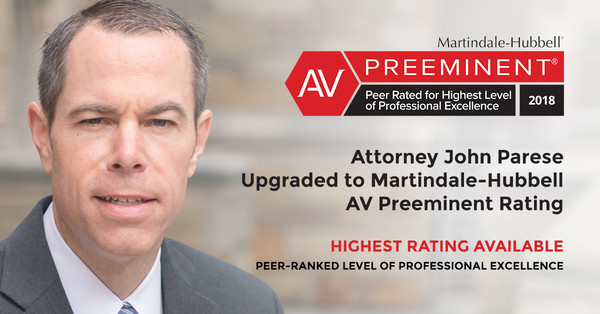 Attorney John Parese was recently upgraded by Martindale Hubbell to an "AV Preeminent" rating. That is the highest rating an attorney can receive for ethics and professional excellence.
Attorney Parese shares this recognition with founding partners John Buckley and John Wynne, who had already held "AV Preeminent" and "Distinguished" ratings, respectively.
Martindale-Hubbell® Peer Review Ratings™ recognize lawyers for their strong legal ability and high ethical standards. Individuals seeking legal counsel, as well as attorneys looking to refer a colleague, use these ratings to identify, evaluate and select the most appropriate lawyer. An elite group of approximately 10 percent of all attorneys holds an AV Preeminent Rating, a designation trusted worldwide by buyers and referrers of legal services.
Martindale-Hubbell® has been providing ratings for lawyers for more than 130 years. The AV Preeminent® rating is the highest peer rating standard. The recognition demonstrates that a large number of attorneys in the industry who work alongside John Parese hold him in high regards, specifically in his professional knowledge and capabilities. In order to receive the rating, an attorney's peers must first review and recommend their fellow attorneys in the industry. By achieving this rating, John has placed himself in the top ten percent of all attorneys.