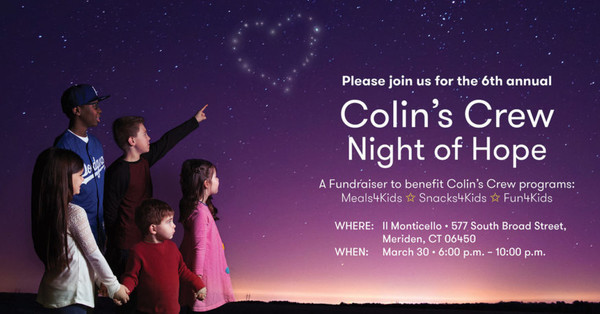 Buckley Wynne & Parese is proud to be the Hero Sponsor for the 6th Annual Colin's Crew Night of Hope taking place on March 30th, a fundraiser to support families affected by childhood cancer.
Join Colin's Crew for our Sixth Annual Night of Hope fundraiser. The event will include a cocktail fare with beer, wine, a signature cocktail, entertainment, and a silent auction. A special live auction will feature "hero" artwork from children at local treatment centers.
All proceeds from the event will benefit three of Colin's Crew programs: Meals4Kids, Snacks4Kids, and Fun4Kids.
Tickets are $60 per person on or before March 15 or $70 after March 15, 2019.
WHEN: March 30, 2019 @ 6:00 pm – 10:00 pm
WHERE: Il Monticello
577 S Broad St
Meriden, CT 06450
COST: $60 on or before 3/15/19. $70 after 3/15/2019
Click here for more information about the event or to purchase tickets in advance.
About Colin's Crew:
Colin's Crew is committed to raising funds through grassroots fundraising efforts to support families affected by childhood cancer.
Colin's Crew is a local 501(c)3 organization focused on bringing moments of comfort and joy to families affected by childhood cancer through various programs. Colin's Crew was originally inspired by Colin Westbrook who was diagnosed with Acute Lymphoblastic Leukemia (ALL) in October 2009, just days after his second birthday. Today he is our biggest advocate
"You give back, you don't give up. You can always choose to help others. If you do, it will change you." - Author Susan Ford