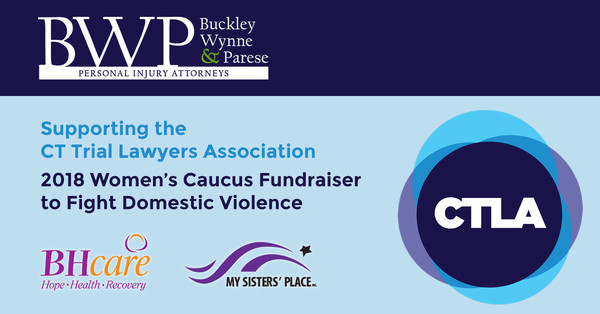 This holiday season, the Connecticut Trial Lawyers Association (CTLA) Women's Caucus is organizing a drive to benefit BHcare, a regional nonprofit organization that provides a comprehensive and integrated system of care for adults, children and families who are struggling with mental health issues, substance use issues and domestic violence. The BHcare family of services includes: The Umbrella Center for Domestic Violence Services, Parent Child Resource Center, and Alliance for Prevention and Wellness.
You can help fight the battle against domestic violence by donating to My Sister's Place - a unique family thrift shop located in Ansonia, CT, that is run by BHcares. The shop sells new or "gently used" clothing, furniture, and household items to the public at discount prices. We are looking for items to donate to My Sister's Place including quality new and/or "gently used" family clothing and shoes, appliances, housewares, small furniture, toys, holiday decorations and many other similar items.
BHcare also provides vouchers to the victims of domestic violence that they work with so that they can get a fresh start at My Sister's Place after experiencing life altering events.
Please consider donating any of the above unwanted but quality items for this worthy cause (please note that they do not accept stuffed animals or infant car seats due to health and safety regulations).
Or consider a donation and make check payable to: BH Care and Write in Memo "My Sister's Place".
Donations can be brought to the following events:
Women's Caucus Roundtable 12/6/18 @ Law Office of Lewis Chimes
CLE Lollapalooza 12/7/18 @ the Heritage Hotel
Donations can be dropped off to the following locations:
CTLA office, 150 Trumbull Street, Hartford
Faulkner & Graves, P.C., 1 Montauk Avenue, New London
Walsh Woodard LLC, 527 Prospect Avenue, West Hartford
Law Offices of Jill M. McGoldrick, LLC, 25 High Street, Milford
Law Office of Lewis Chimes, LLC, 45 Franklin Street, Stamford
Lynch Traub Keefe & Errante, PC, 52 Trumbull Street, New Haven
D'Amico & Pettinicchi, LLC, 465 Straits Turnpike, Watertown
For more information, please see BHcare's website https://www.bhcare.org and My Sister's Place at http://sistersplacect.org. Donations are being accepted until Monday, December 10th.
If you have any questions, please contact Kara Burgarella ([email protected]) or Cynthia Bernard ([email protected]).