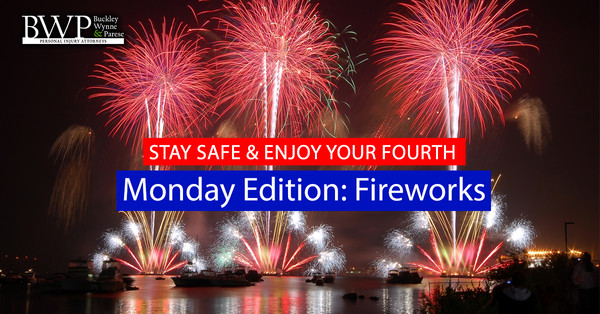 Why Fireworks on the Fourth?
On July 3, 1776, John Adams wrote to his wife:
"I am apt to believe that [Independence Day] will be celebrated, by succeeding Generations, as the great anniversary Festival," he wrote. "It ought to be commemorated, as the Day of Deliverance by solemn Acts of Devotion to God Almighty. It ought to be solemnized with Pomp and Parade, with Shews, Games, Sports, Guns, Bells, Bonfires and Illuminations from one End of this Continent to the other from this Time forward forever more."
A year later, the United States first celebrated Independence Day and the skies were illuminated with bonfires, cannons, guns and fireworks. Today, more than 14,000 fireworks are set off across the country in celebration.
---
Where to Watch Connecticut Fireworks in July 2019
July 2nd, 2019

July 3rd, 2019

Danbury
Derby
Fairfield
Norwalk
Shelton
Stratford
West Haven

July 4th, 2019

Haddam
Middlebury
New Britain
New Canaan
New Haven
Ridgefield
Weston
Westport

July 5th, 2019

Norwalk
Orange
Simsbury
Torrington

July 6th, 2019

Darien
Greenwich
Manchester
Putnam
Wallingford

July 7th, 2019

July 12th, 2019

July 13th, 2019

Beacon Falls
Guilford
New London

July 19th, 2019

July 20th, 2019

July 21st, 2019
---
The National Safety Council's Safety Tips
Never Use Fireworks While Impaired by Drugs or Alcohol
Never Allow Young Children to Handle Fireworks
Older Children Should Use Them Only Under Close Adult Supervision
Anyone Using Fireworks or Standing Nearby Should Wear Protective Eyewear
Never Light them Indoors
Only Use them Away from People, Houses and Flammable Material
Only Light One Device at a Time and Maintain a Safe Distance After Lighting
Never Ignite Devices in a Container
Do Not Try to Re-Light or Handle Malfunctioning Fireworks
Soak Unused Fireworks in Water for a Few Hours before Discarding
Keep a Bucket of Water Nearby to Fully Extinguish Fireworks that Don't Go Off or in Case of a Fire
Source: NSC.org