Why You Should Choose BWP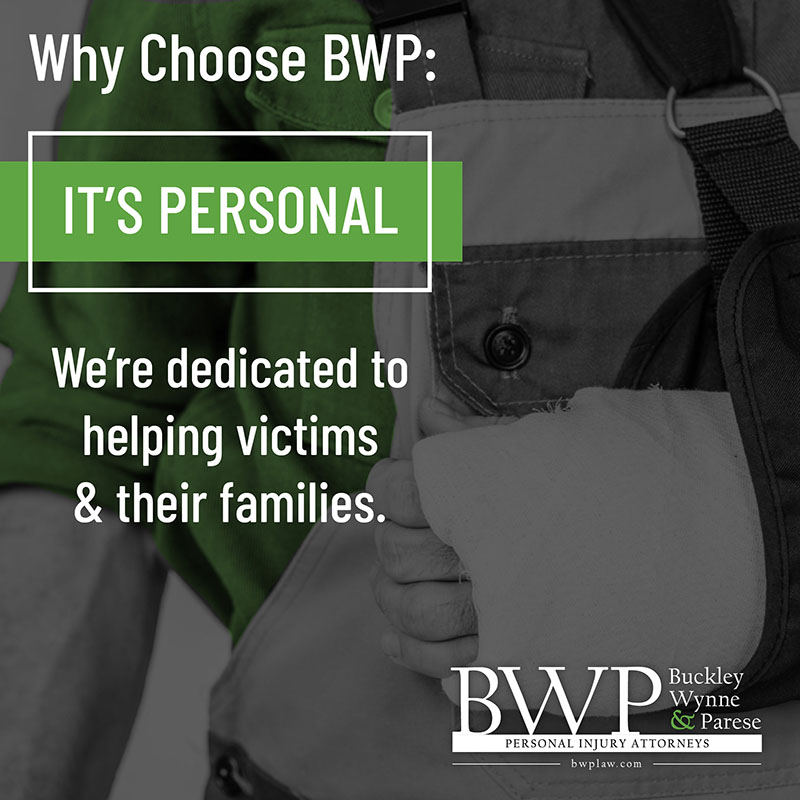 It's Personal
We have dedicated our entire practice to helping victims of serious injuries and their families. You can expect a personal relationship because our attorneys want to work with people day in and day out.

We take pride in making ourselves available and creating connections with each of our clients. When you hire Buckley Wynne & Parese, you get Buckley, Wynne, or Parese.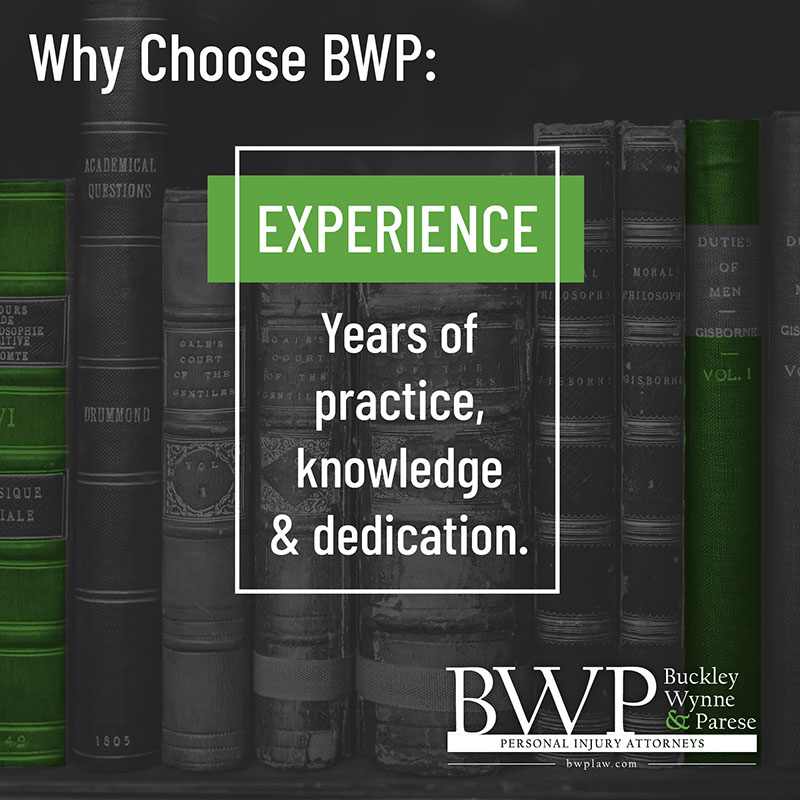 Experienced
If you are the victim of a serious injury, your lawyer should know two things: what happened and what will happen. What happened is based on the facts. What will happen is based on your lawyer's knowledge and experience.

That's why every case at this firm is personally handled by a senior partner.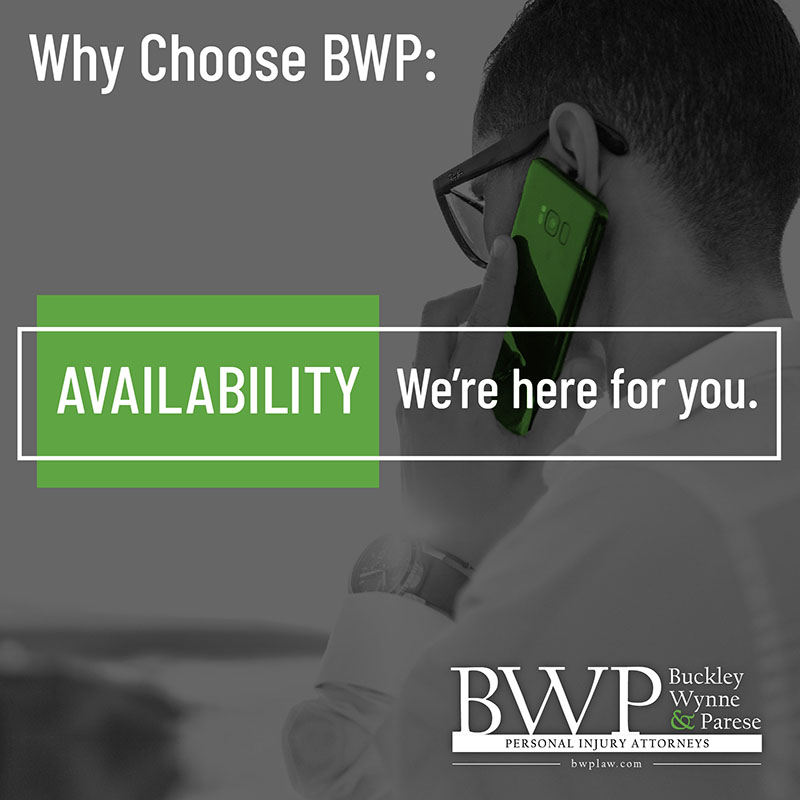 Availability
A senior partner will meet you anywhere at any time whether that's a hospital, a home, a restaurant, or the office. We will utilize technology to make your experience personal and convenient.

We want to do what is easiest for you at a very difficult time and will stay with you throughout the journey.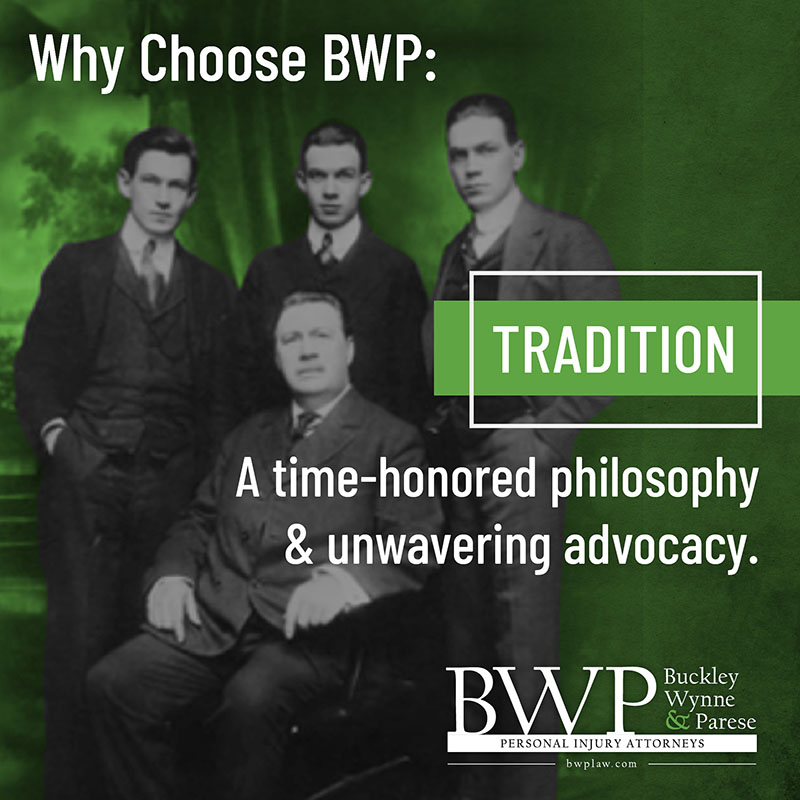 Tradition
A strong reputation is earned over time. Our tradition goes back over a hundred years and has ranked us among the top trial lawyers in Connecticut.

We have the resources, experience and talent to take on the most serious injury cases. We understand that protecting families and representing victims of serious injuries is an honor and a privilege. Our time-honored philosophy is one of unwavering and zealous advocacy.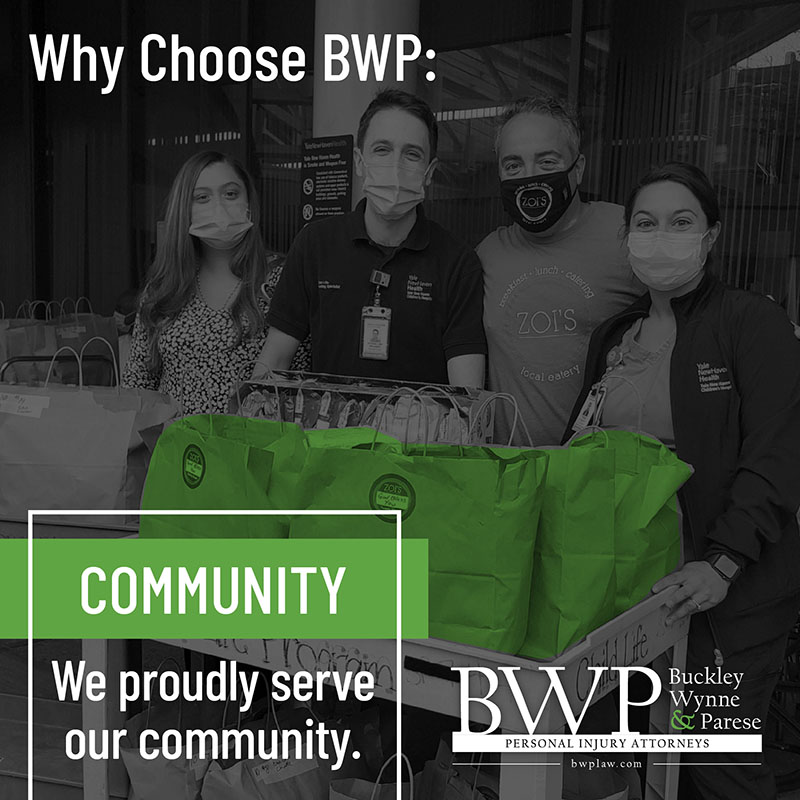 Community
We're all part of this community- a diverse blend of vibrant and strong people brought together by our shared experiences. Serious injuries affect families and they affect communities.

We know this well because we are part of this community. We contribute and support our local community and charities. We serve on educational and charitable boards and committees.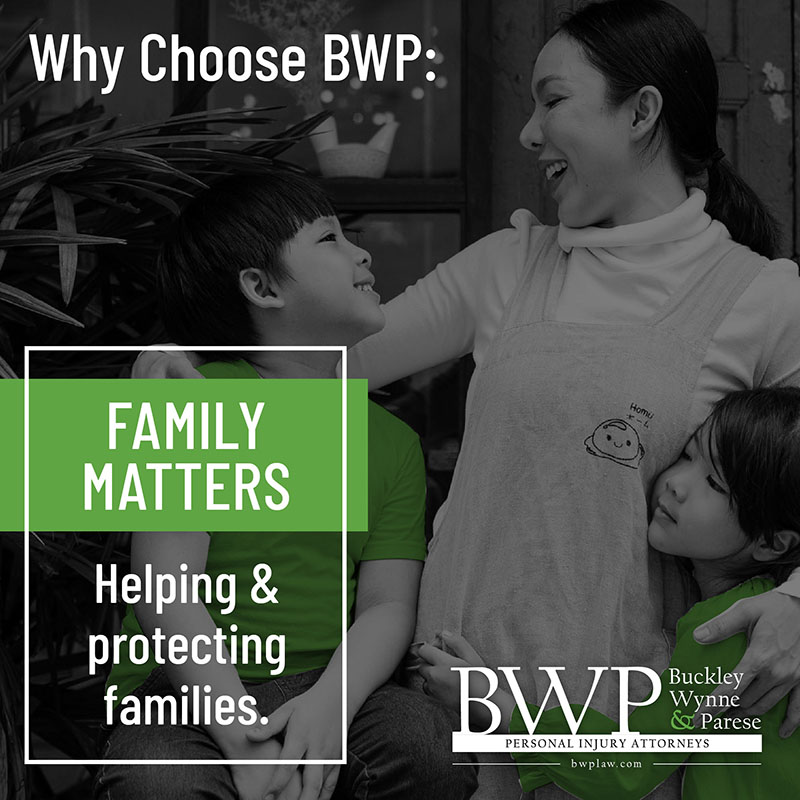 Family Matters
Here at BWP, we know what it means to be a part of a family and the importance of being able to take care of your family.

At our firm, we invest all of our experience in helping and protecting families. We don't take every case that comes to us. But when we do, we fight to win!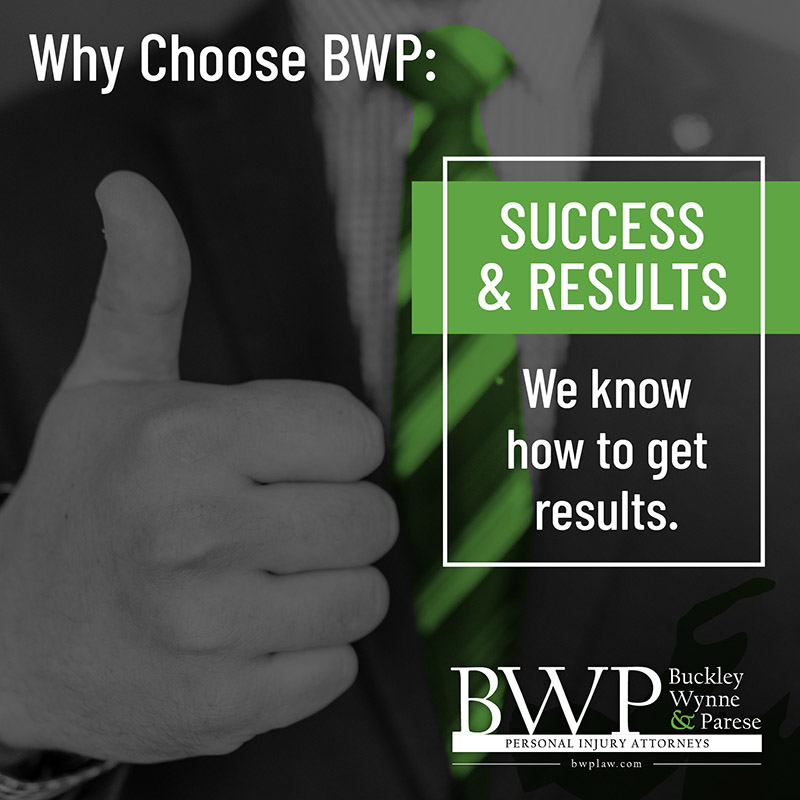 Success & Results
Our cases are individually and personally investigated, developed and understood. We devote the time and resources to get the best outcomes.

Having handled thousands of cases over four generations throughout Connecticut, we know how to get results for our clients. It is done by applying our knowledge, experience and hard work.
Recent Case Results
$9,000,000

Serious Injury Settlement

$7,500,000

Racketeering and Fraud Judgment

$6,400,000

Serious Injury Verdict

$4,000,000

Wrongful Death Settlement

$1,100,000

Motor Vehicle Settlement

$800,000

Motor Vehicle Settlement

$2,100,000

Premise Liability Settlement

$1,800,000

Liquor Liability Judgment

$1,500,000

Police Liability Settlement

$498,000

Motor Vehicle Settlement

$475,000

Motor Vehicle Arbitration Award

$350,000

Motor Vehicle Settlement

$950,000

Legal Malpractice Settlement

$850,000

Medical Malpractice Settlement

$250,000

Motor Vehicle Settlement

$210,000

Motor Vehicle Verdict

$650,000

Wrongful Death Settlement

$600,000

Medical Malpractice Verdict

$600,000

Sexual Abuse Settlement

$500,000

Serious Injury Settlement

$500,000

Product Liability Settlement

$385,000

Product Liability Settlement

$300,000

Serious Injury Verdict

$275,000

Serious Injury Verdict

$175,000

Premise Liability Verdict

$1,000,000

Motor Vehicle Settlement
Client Reviews of Our Personal Injury Attorneys
Friendly, professional and VERY responsive!

Attorney John Buckley was highly recommended to me by quite a few people and upon my first meeting to discuss my case, I knew immediately that I was in good hands. He took his time to explain everything to me in great detail and stayed in communication throughout my entire case. His staff was also extremely friendly, professional and VERY responsive! I actually never had to reach out about my case because they over-communicated with me from beginning to end. My accident was very unfortunate, but I'm extremely grateful I was working with Attorney Buckley through it all! I highly recommend this law firm!!!

- Jamie B.

Respectful, extremely knowledgeable, & understanding

Recently engaged BWP concerning a motor vehicle accident. From the initial consult, and continuing throughout the entire process, John Parese and the entire staff were respectful, extremely knowledgeable, understanding of my goals and supportive to work towards achieving the best possible outcome. It was a very seamless, friendly relationship and a firm that I would highly recommend to anyone.

- Robert T.

Couldn't have been happier with the services I received!

I contacted BWP in June 2019, after I was hit by a drunk driver. John Wynne was my attorney. I couldn't have been happier with the services I received. Everyone I dealt with was very professional and made sure I had all the help I needed. I highly recommend this law firm.

- Valerie

Quick and consistent

John Buckley was quick and consistent in relaying information to me regarding litigation, and he and his staff were always very supportive of any requests I made. John's experience and strategic expertise made the difference in dealing with the insurance company, and we achieved the best possible outcome thanks to his vigilance. Cannot recommend BWP highly enough!

- Richard

5 star all the way!

Upon my first meeting to discuss my case, I knew that I found the right place to handle it!! Attorney John Parese was fantastic, definitely 5 star all the way! Everything regarding the process and the timing was very well explained. The communication was excellent, and I was always kept up to date throughout beginning to end! Each person that I had contact with in the office was professional and very responsive. I never had to worry about anything which was a great relief to me. While my case may have to been as complicated as others are, I was always made to feel important. I can't recommend Buckley Wynne & Parese enough should you find yourself being injured from an accident. Do yourself a favor and give them a call!

- JB Keys

Knowledge, trust, & accessibility

John Buckley exhibits knowledge, trust, accessibility, instills faith and I felt he always had my best interest at heart. Thank you John Buckley and team for easing my mind during a difficult time. I highly recommend.

- Diane M.

John Parese is the best!

Attorney Parese just finished a motor vehicle case for me. At the time of my accident, I was a 32 year vet of a police department and the accident forced me into retirement. I am just a working person who depends on attorneys like John to help people in need and they can trust. John Parese is the best.

- John

It is clear that helping people is important to you

This is a very heartfelt thank you for all you did to help resolve my case. The accident and what followed was confusing and a bit overwhelming. However, the best thing to come of it was the recommendation to contact you. Your expertise as well as your down-to-earth and friendly manner immediately put me at ease. I greatly appreciated your willingness to go above and beyond (meeting and bringing paperwork to my house on a weekend after my surgery) and all the time you took to explain all aspects of the case. Your generosity in giving me some of your fee was also very much appreciated. It is clear that helping people is important to you, and I am grateful to have been of those you helped. Hopefully, I will never need to use your services again, but I will be sure to recommend you to others who do.

- Carrie

Parese listened carefully

John Parese listened carefully, we discussed options, he gave me his expert advice on where he thought we would end up and he went to work to attain the damages I was due. I received status calls and notifications along the way and received the settlement we were expecting. I never doubted John's integrity and trusted being in his hands. I hope I don't get rear ended again but if I do, I'll call John right away.

- Joseph Schipani

From the moment I met Attorney Buckley, he put me at ease

From the moment I met Attorney Buckley, he put me at ease. At first, I was hesitant to contact an attorney after the car crash, yet after deciding to work with Buckley, Wynne & Parese, I was pleased that I did. During the time it took to settle my case, Attorney Buckley was always available for consultations, he responded to queries within hours, and walked me through the litigation process step by step. He has a great team of paralegals and assistants who were courteous and professional. I am grateful for his help.

- Nicole C.